Important Service Functionality End Dates for Microsoft Products You Need to Know
While hardware typically alerts users of an impending end date by beginning to fail, having slower response times, or crashing altogether, software applications often provide far less noticeable changes. However, software changes can be just as important as hardware changes and being aware of these can have a big impact on users.
This post discusses several important service functionality end dates for Microsoft products that all users need to know.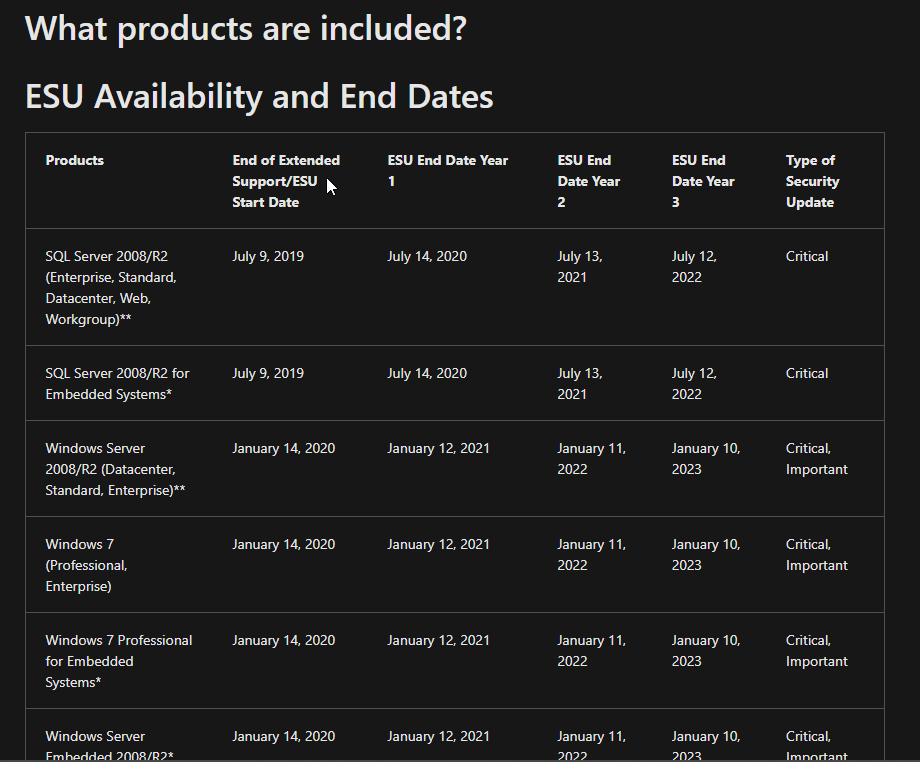 Important Service Functionality End Dates for Microsoft Products You Need to Know
There are several different types of application support and functionality and it is important to understand the difference between them. The most common support dates you will see associated with Microsoft applications are:
Mainstream support - when this version of the product is the current one being sold and supported.
Extended support - when a newer version of the product has been released, but this product is still being provided with security updates.
Beyond end of support - when security updates are only available through the Extended Security Update Program. NOTE: While there are some versions of this that are free, this is only for security updates. Any technical support is subscription based.
The most important take away from the descriptions above is the security updates. As soon as a product is no longer being supported with security updates, it is an invitation to hackers to try to take advantage of any security flaws that exist or are introduced by other programs, updates, etc., that they can then use to gain unauthorized access to your valuable data. This means that you need to be sure you are using software that is currently getting security updates at all times! NOTE: This applies to all software and applications, not just Microsoft.
There are several upcoming service feature updates that are worth noting which include Office 2016, Office 2019, Server 2012 and Server 2012 R2.
Office 2016 & 2019
Both Office 2016 and Office 2019 will lose the ability to connect to online versions of Microsoft 365 services on October 10, 2023. This means that after that date, both of these versions of Office will no longer be able to connect to Microsoft 365 services supporting these products. These include OneDrive for Business, Exchange Online and SharePoint Online. If you are using these products in combination with these older Office versions, you will need to reconsider how you are using them or upgrade before the deadline.
This change represents an end to connectivity and feature support rather than the traditional end of support but can have adverse affects on users if they are unaware of the change and don't have time to plan ahead.
For more information about this change, read Microsoft's article about Office connectivity changes.
Server 2012 and Server 2012 R2
Server 2012 and Server 2012 R2 are facing a far more traditional end of support date. After October 10, 2023, both server operating systems will cross over into the beyond end of support category. This means they will no longer receive updates, security or otherwise, technical support, or bug fixes outside of users acquiring Extended Security Updates.
Extended Security Updates are available in different ways depending upon how users go about moving forward. If you migrate to Azure you can receive up to three years of extended security updates for free. If you still need to have on-premises versions of these operating systems, then you will likely need to purchase Extended Security Updates or upgrade to a newer operating system to be protected.
For more information about this change, read Microsoft's article about Server 2012.
Moving forward
October 10, 2023 is going to be an impactful date for Microsoft products and it is important to know what will change so you have time to make the best choice for your implementation moving forward. Knowing what changes are happening to software applications before they happen allows you to make a plan and implement it before important deadlines pass and put your data at risk.
Both Office 2016 and Office 2019 will lose connectivity to companion Microsoft 365 applications online such as OneDrive and Exchange. If you do not utilize those services, this might not affect you. However, if you do use them, you will want to plan how you can maintain your business continuity before it is too late.
Server 2012 and Server 2012 R2 will stop receiving any updates, including security updates and bug fixes, which means users need to begin implementing a plan to upgrade or move to Azure so they can continue to receive security updates.
For additional information about applications, read Microsoft's article about end of support dates coming in 2025.
As always, being well informed helps protect you and your data!